Swallowed by the Light

Curated by Nakai Falcón
October 7th - 15th, 2023
Opening Reception
Oct 7th, 2023, 7 PM - 9 PM
Matías Alvial, Joshua Ben-Dylan, Mara Corsino, Lloyd Foster, Gia Han, and Oji Haynes
-> Catalog
:iidrr presents Swallowed by the Light, a group exhibition showcasing the work of Matías Alvial, Joshua Ben-Dylan, Mara Corsino, Lloyd Foster, Gia Han, and Oji Haynes. Revolving around ideas of identity, mental health, and cultural relations between people, materiality, and states of being, the exhibition centers around the theme of illumination; its various iterations and the vast range of perspectives tied into interpretations across the tangible and intangible. How it can provide clarity to the misunderstood and reveal new viewpoints within both pop and subcultures. Scenes that have the potential to establish comfort and reinvigorate or tap into the senses in unpredictable ways. Adversely, the presence of illumination also alludes to hidden meanings - the concealed and what can be disregarded as inconsequential, lost, or mistreated.




The presence of light - both in its literal and figurative implications, is a bridging between the physical and spiritual. Whether it be its relations to natural and artificial formations and people to the conditions of a site where interaction occurs or have taken place. In a way, a trait shared between this process of illumination and the snapshot of a photographic composition is this inherent quality of magic that transpires during the moment. A mythical process where extraordinarily, what has been captured in the active is excused out of our realm of temporality, and is then capable of showing the viewer things that may never have been considered otherwise. To this extent, the exploration of illumination's multifaceted definition can reveal the transformative nature and fluidity of photographic practices, while simultaneously demonstrating an ability to convey thoughts between the material and immaterial world. What is captured behind the lens is capable of expanding on the untapped potential within instances transpiring right in front of us, and allowing for richer understandings of how this potential can be released. Translating over into possibilities that are insightful, healing, challenging, but always revealing.


In Swallowed by The Light, the works displayed are indicative of photography's versatility in moving past a simple image to communicate sentiments embedded within the moment. Artists like Corsino expand on the historical implications of material such as gold within Latin American culture, while also embracing the fluidity of identity within her subjects. Interrogating these interests through the guidance of her gilding experience and application of the photographic lens from a contemporary standpoint, she confronts the conventional glamorizing and luxurious sentiments towards gold use. While a conceptual artist like Haynes reflects from positions that consider art, music, design, and history within the context of Black American aesthetics to craft scenes of intimacy and strength. Pushing the boundaries even further through their hybridized photographic sculpture. The photographic works here make way for an embrace of visual freedom and an investigation of socio-cultural structures within distinct visual languages. A dance between meticulously crafted scenes and uncandid snapshots that draw from the historic influences of art nouveau, pop, punk, and surrealism through approaches that address the figurative and conceptual. Swallowed by the Light homes in on the voices that have historically found themselves faded into the background, and through a combination of material bending, taming of color, mise en scène, and sheer miraculous circumstance, brings these conversations and perspectives to the foreground in dazzling effect.




Oji Haynes, Happy Family, 2022, Archival inkjet on wood panel, 50x40 in
Matías Alvial (b. 1997)
is a Chilean multimedia visual artist, community organizer, and activist based in New York. He explores themes of identity, human connection, gender and sexuality. In Alvial's words, his practice is compartmentalized, where he captures the real world through documentary-style analog photography and escapes reality through drawing & painting. Yet this dichotomy is unified by his wish to capture the essence of the queer experience. Alvial received a BA in 'The Aesthetics of Commerce' from New York University, and has exhibited in New York, Massachusetts, Italy and Norway, while also having their work held in private collections.
Ink Figure III (Metal), 2023, Dye-sublimation print on aluminum, 12x8 in
Mara Corsino (b. 1979) is a self-taught Puerto Rican photographic artist based in New York. Having delved into the world of photography while living in Milan, Italy during the 2000s, her self-taught approach to the medium explores still images and moving portraits. Work characterized by clear lines that still find a way of embracing imperfections, both in the subject and the process. Through physical and digital manipulation, Corsino creates collages that evoke motion or the juxtaposition of shapes. Additionally, this physical manipulation can take the form of the artist gilding or painting over her digital or silver gelatin prints. Corsino has exhibited in Milan, New York, and Puerto Rico, while having been published in the New York Times Magazine, T Magazine, TIME, Vogue Paris, W Magazine among others.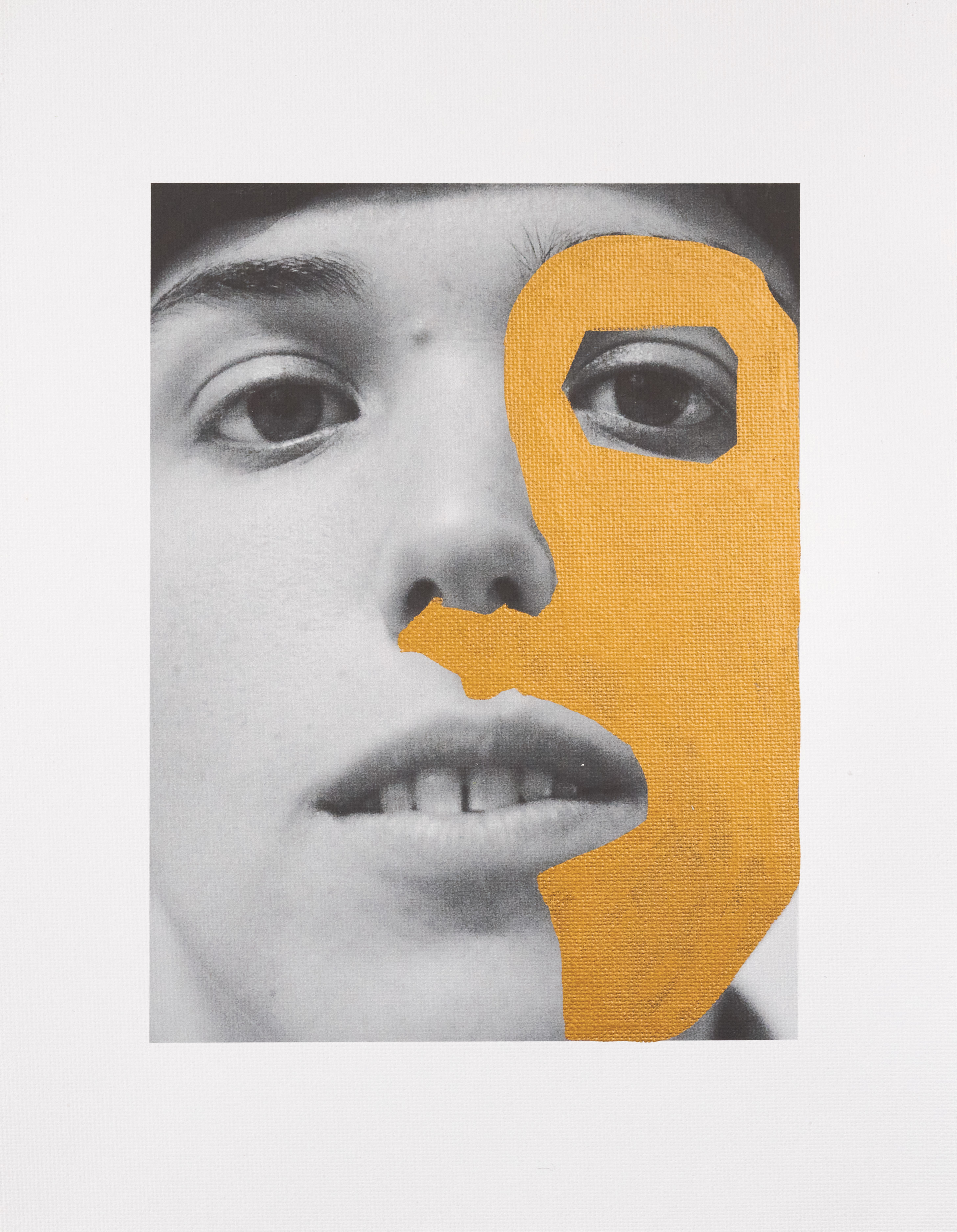 Mace, Brooklyn, New York, 2017-2020, Inkjet print and enamel paint on primed canvas photo paper, 11x8.5 in




Joshua Ben Dylan (b. 1997) is a multidisciplinary artist based in Montana and New York. From photography and painting to film, the photographic images taken by Ben-Dylan, synthesize features from each of these fields and combine them into singular compositions that burst with complicated myriads of color. This "hypercolor" morphs the piece into something malleable by the mind, softening the heat and brightening the iridescent blues. The subtle beauty of life becomes enveloped by rapturous colors, recontextualizing its existence. Their work gifts something extreme to stagger the viewer away from the mundanity of the everyday captured at first glance. Ben-Dylan received a BFA in Film from SUNY Purchase and has exhibited in New York and Washington D.C.


can't seem to parse the feeling, 2021, UV ink on metal paper, 4x6 in Unframed. 5.5x7 in Framed
Lloyd Foster (b. 1990)
in an interdisciplinary artist based in New York. Paired with their primary medium of photography, Foster highlights the emotional intention within his practice by transforming photos into more theatrically charged, mixed media works alongside sculptures and drawings. Tapping into elements of community and ancestry, his practice reflects on personal connections, memories and authentically dual perception of the self. He is a founder of Yeboah Studios: a platform that bridges African countries and the diaspora through culture and collaboration. Foster received an MFA from New York University in 2021; and received a B.Sc. from Saint Francis University, Loretto, PA and has exhibited in Baltimore, New York, Germany, Maryland, Virginia, and Washington D.C.

Untitled, 2023, Cotton print, bicycle handle grip, 10x8 in



Gia Han (b. 1993) is an artist based in New York. Her work examines self-image, care, family structures, and the divide that takes place when cultural identity and physical location don't align. Han received her BFA in Photography from SUNY Purchase and has exhibited in New York, Utica, and South Korea.

우리는 스스로 성수에 몸을 담갔다 (We Soaked Ourselves in Holy Water), 2020, Archival inkjet print, 28x24 in




Oji Haynes (b. 1999) is an American photographic artist based in New York. With his poetic outlook on life, Haynes works toward making images that evoke emotions and pridefulness. Pulling inspiration from music, art, and the history of Black aesthetics in America, his work aims to put the Black figure at the forefront of his frame giving his lens, viewer, and the world a sense of rich intimacy. Haynes received his BFA in Black Studies and Studio Art from the City College of New York and has exhibited in Atlanta, New York, and London.






Oji Haynes, Happy Family, 2022, Archival inkjet on wood panel, 50x40 in




Nakai Falcón (b. 1997) is an independent curator and researcher based in New York with a BA in Anthropology from SUNY Purchase and an MA in Design History & Curatorial Studies from Parsons School of Design. Caught between different cultural perspectives and schools of thought that often posed a challenge fitting him into one category, Nakai embraces an awkward positioning that celebrates otherness within the sphere of creative culture. Often tapping into the lived experience of members from POC and Queer communities, recurring themes within his practice deal with the impact of identity and memory on a creative's navigation of the world. Nakai is primarily concerned with supporting creatives exploring ideas and conversations that do not confine marginalized artists to focus solely on their socio-political disparities, but experience a creative liberation to address their values without having to follow conventional paths. More explicitly bringing together work that provides an opportunity to understand widely varying perspectives across pop and sub cultures, while highlighting sentiments shared within the human condition.