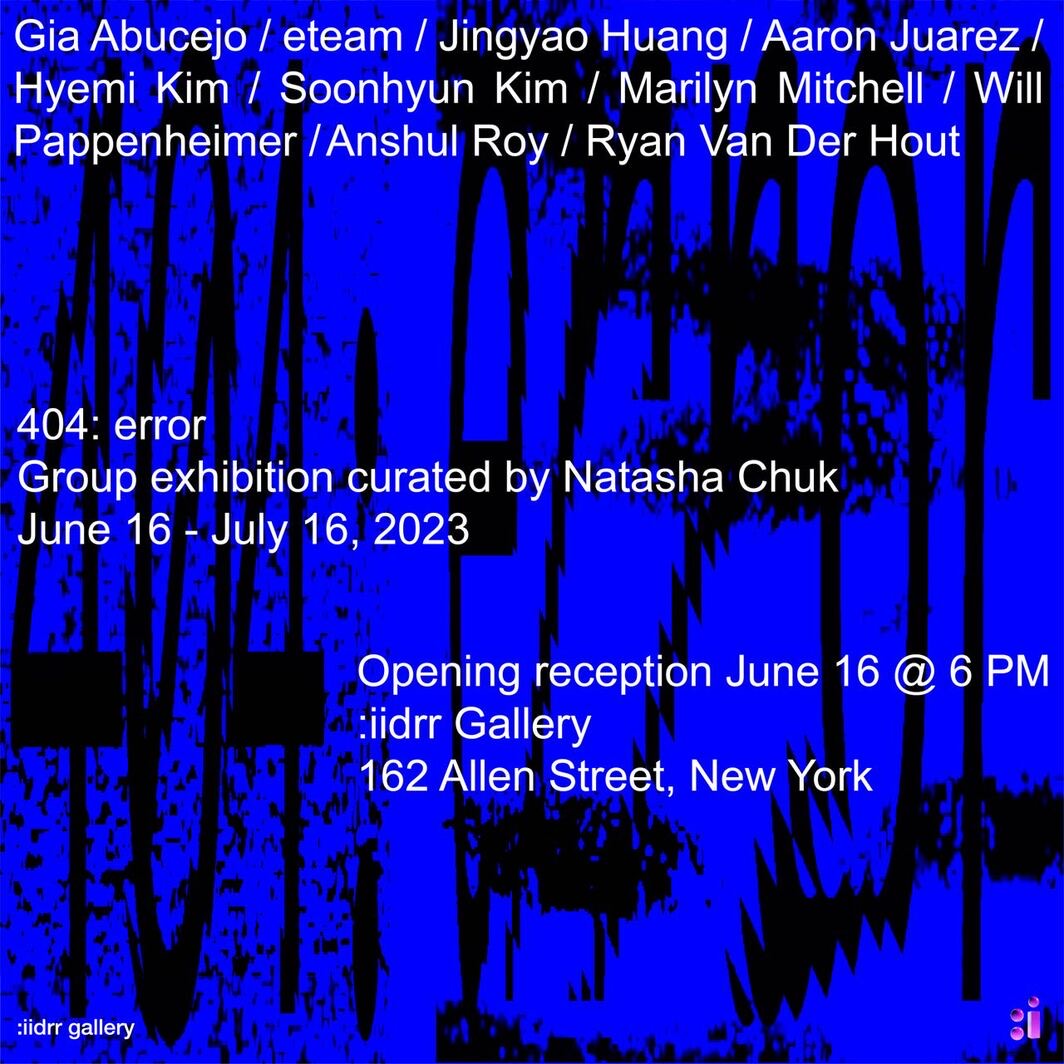 :iidrr Gallery
162 Allen Street, New York
Wed – Sun 11am to 5pm
info@iidrr.com
www.iidrr.com
404: error
Curated by Natasha Chuk
June 16 – July 16, 2023
Opening reception
: Friday, June 16, 6-9pm
Gia Abucejo
eteam (Franziska Lamprecht and Hajoe Moderegger)
Jingyao Huang
Aaron Juarez
Hyemi Kim
Soonhyun Kim
Marilyn Mitchell
Will Pappenheimer
Anshul Roy
Ryan Van Der Hout
New York — June 1, 2023
- :iidrr Gallery is pleased to present 404: error, an exhibition that explores how artists critically engage with errors, glitches, and other failures in their work.
The selection of works in this exhibition encompasses a variety of media reflecting a range of creative sensibilities that subvert the idea that errors, glitches, or other failures are problems to be avoided. Instead, the works invite us to examine what they can produce or reveal in their disruptive wake. The result is a challenge to existing aesthetic, social, and ideological conventions and a provocative gesture toward new perspectives, redefining what we find problematic or correct.
The technical capacity and visual language of photography are exploited and leveraged in Jingyao Huang's Chaotic Data Fences, Baraka, and the Cityscape (2022) and Hyemi Kim's Clockwise I (2023), urging a rethinking of the photographic apparatus, the creative upside to technical limitations, and the inventive use of mixed materials. The visual breakdown of technology is prompted and pushed in Aaron Juarez's Fluid Technature (2023), which seeks to prod at the organic-like structure of digital material. Soonhyun Kim's use of generative AI technology playfully reimagines urban planning by questioning the ability to create impossible, maze-like cityscapes from massive amounts of visual data in Endless Optimism (2023). Will Pappenheimer's digital animation Character Development (Glitch Shield) (2021) follows an unintentional digital glitch encountered in the process of creating a 3D avatar to identify its parallels with our human identities, which are constructed, vulnerable, and require their own form of protective shield. Pappenheimer's Mirrored Lines Painter (2023) is an AR painting simulator that instantly glitches the user's environment, albeit with a temporary and discrete digital layer.
Other works seek actions that are analogous to a mechanical or digital glitch. Marilyn Mitchell's collotype Mistaken Love (2011) embraces the typo, the confluence of human and machine error, in one of computing's earliest coding systems. eteam (Franziska Lamprecht and Hajoe Moderegger) contemplate the broken rhythm of nature's momentum following the disruptive encounter with a mechanical device designed to control it in the meditative video Water Gate (2023). Ryan Van Der Hout's image sculpture Column (2023) explores queer becoming in the fragmented and reconfigured photographed body. Gia Abucejo's video Shield Ambience (2023) takes its cue from Legacy Russell's concept of glitch feminism to explore digital space as a liberating arena from which to dispense with fixed categories attributed to gender identity and queer bodies. Anshul Roy's web-based work Untitled (Rage Against the Archive) (2023) is inspired by the racist use of photography in the 19th century publication "The People of India"—one of the oldest and most comprehensive ethnographic texts commissioned by British colonial rulers and available through the free online archive of the New York Public Library—and documents the hacking methodology used to expose, delete, and insert different content in an act of glitch resistance and a gesture toward restoring any dignity lost to colonial exploitation.
404: error is curated by Natasha Chuk, a media theorist, educator, and independent curator based in New York City.
Hyemi Kim,
Clockwise
, 46x20in (117x50cm), printed tape, color pencil on canvas, 2023
Will Pappenheimer, Character Development (Glitch Shield), 20212K HD video 5:54 min, custom game figure, 3D media






Jingyao Huang, Chaotic Data Fences, Baraka,and the Cityscape #2, 2022, 40 x 15 x 5 inches, UV print on acrylic plastic, Wire




Ryan Van Der Hout, Column, 2023, Pigment print




eteam, Water Gate, 2023, 5min HD video loop, 28 inch flat screen TV, blue tooth audio speaker, telescopic stand, paper mache casing